Gravity Forms Delayed Email Notifications
Delay Sending Gravity Form Email Notifications by Any Period of Time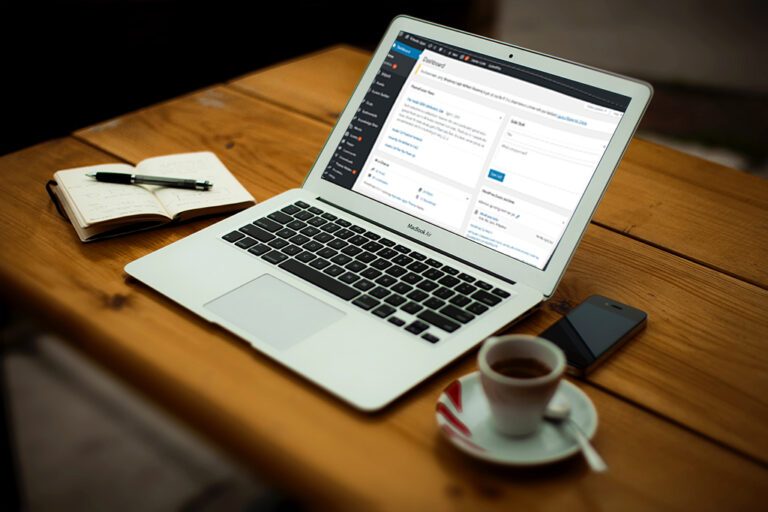 Simply check the box Delay Notifications at the bottom of your Gravity Forms notification config, then select the period of time you'd like from the drop-down and enter the time period you want to delay the message.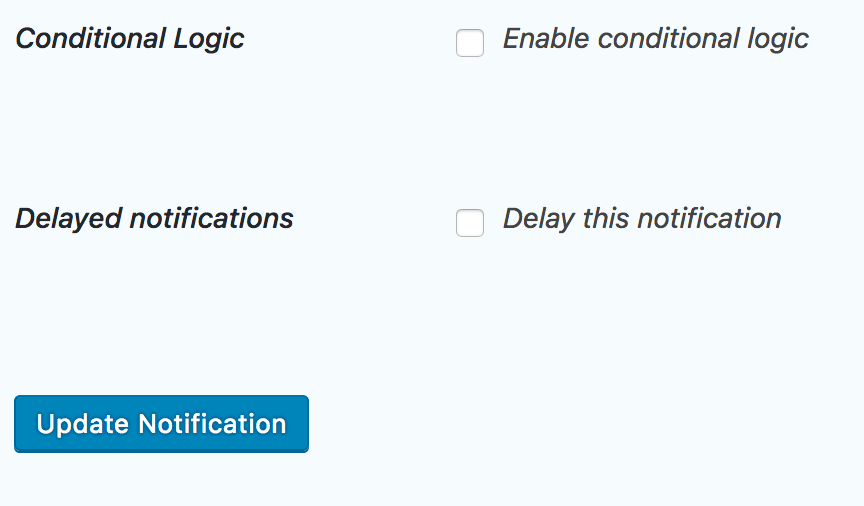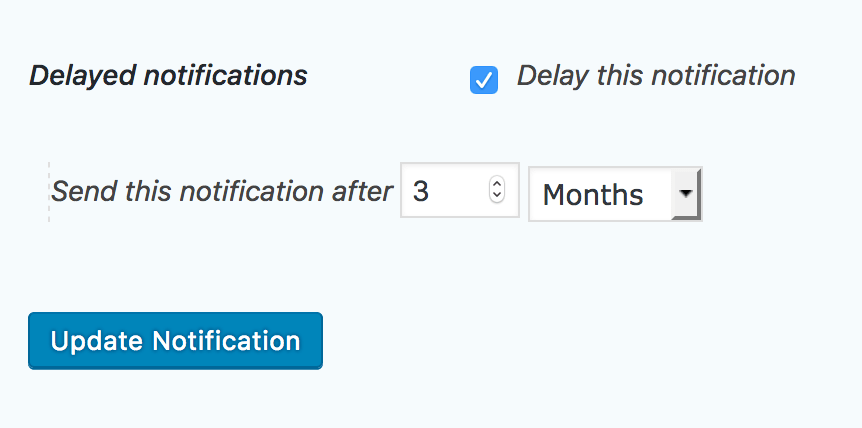 See All Outgoing Emails at Your Fingertips
Got a lot of emails scheduled to go out? Wondering whether a particular customer received their notification already? Our Delayed Notifications screen will show you all email notifications that are schedule to go out.
Need to cancel an outgoing delayed notification before it reaches your customer? No problem, the plugin will allow you to do that as well.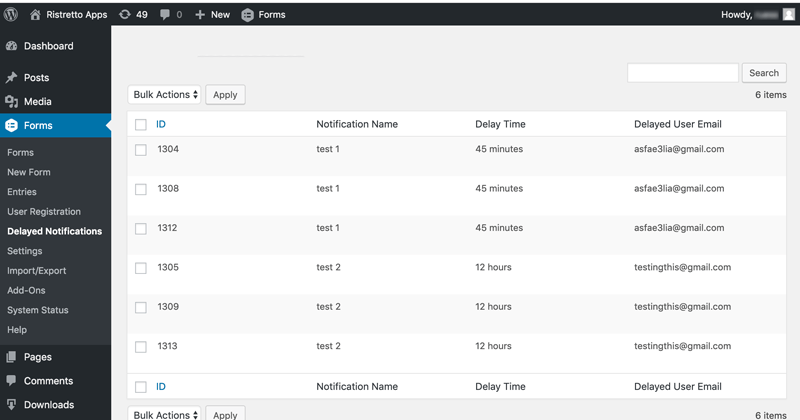 Perfect for Appointment Scheduling!
Perfect for massage therapists,  dentists, or any type of service provider that takes appointments and payments through Gravity Forms? Now you can let your customers choose a date and time on your form, and Gravity Forms Delayed Notifications can send their appointment reminder email any time before the date they chose. For example, if they booked you for next Wednesday, our plugin can send them a notification 2 days prior, utilizing the delay feature based upon the date field that you include in your form.
Super easy. Super effective!
*Feature only available in Doppio and Supremo versions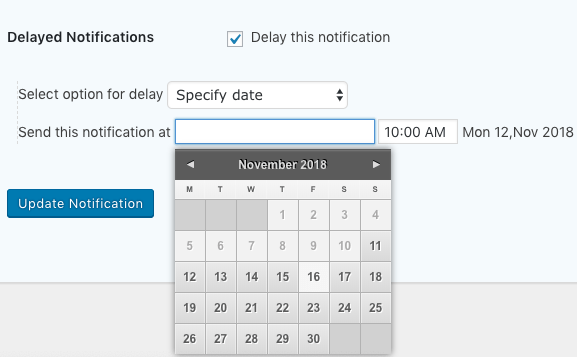 Schedule a Gravity Forms email notification to go out on an exact date and time of your choosing! Just select the option "Specify by Date" and choose the exact time you'd like the notification to go out, no matter when your customers submit your form!
This is a great feature for event planners who need to make sure event reminder emails go to everyone who checked out using Gravity Forms a few days before the event.
*Feature only available in Doppio and Supremo versions
Need a particular notification to go out daily, weekly, or even monthly, without end? Our Recurring Notifications feature lets you repeat notification at specific intervals.
Include a start date, end date, and a specific time you'd like the notifications to repeat for an even more fine tuned delivery sequence.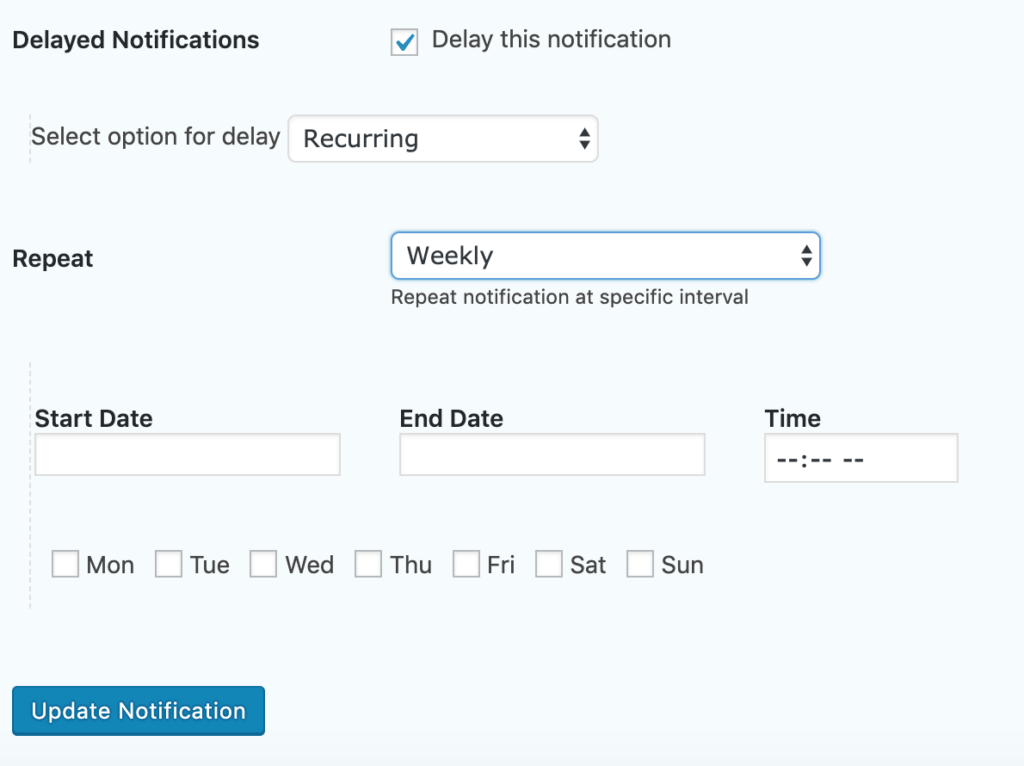 *Feature only available in Doppio and Supremo versions
* Plugin updates and email support are provided for the duration of your current subscription.
Frequently asked questions
As you may know, WordPress is built upon PHP, which does not have its own internal CRON function. In plain english, this means that scheduled activities in WordPress can only happen so long as there is enough consistent and constant traffic to your website so that the emails go out at the time they're supposed to. However, imaging that you have a delayed notification for 2pm, but you don't receive any site traffic between 1 and 3pm. This would result in your email being sent at 3pm instead of 2pm as scheduled. 
To ensure more precise sending, we recommend setting up a regular CRON job with your website host to repeat every 1 minute. This will narrow the sending of the delayed email to occur within 1 minute of the time it should be sent.
Great plugin. Did it's job as advertised and saved me a lot of hours of programming.
Gravity Press made completing an HOA website project much easier. The plugin made it much easier to create users with appropiate memberships and permissions. I had what I thought was going to be one of the more time consuming parts of the project completed in minutes.
Very nice bridge between MemberPress and Gravity Forms. May main issue with the MemberPress checkout is the two page process. Gravity Press allows me to run checkout through Gravity Forms (with a single page register/checkout) flawlessly.
I use a membership plugin and there forms aren't exactly designer friendly in fact there's no customization possible. With Gravity Press I was able to use a separate form to replace my membership form. Which ultimately allowed for design customization and the flexibility I needed. Without Gravity Press it wouldn't have made this possible. I'd happily purchase Gravity Press again!
Excellent plugin, no issues, easy install and configuration. Highly recommended!
This plugin was exactly what I was looking for, I can now send my registration signups to MemberPress!
Reviews
Hello, I am not able to download the Gravity Forms Delayed Notifications plugin. I get the message at the bottom of my browser gravity-forms-delayed-notifications-basic.zip cannot be downloaded safely.
Today I have bought the plugin.
We used it for a prayer form that we have on our church website. 30 Minutes after the request, we send a "Thank you". That gives the entire request a more natural view, because if we'd send it immediately, the requester will know that we had no time to read through but. BUT – after 4 days, we send a second E-Mail, asking for how it goes with that prayer request. People feel much more involved and see that we care. And yes, we DO, and we still ask personally as well, but this makes it easier. Your plugin does a great job. 🙂
A great plugin that simply works! I had a couple of extra questions for their support team as well who responded promptly and informatively. Thanks for the great plugin!
I purchased this product because I was looking for an easy way to delay my email confirmations in a Gravity Form I had setup for new customers. This plugin did the trick. Thanks!
Write a Review